Book In Progress
Transhumanism
My current book project explores the rhetoric of the transhumanism movement with regards specifically to its Utopian content.
Book In Progress
Transhumanism: Evolutionary Futurism, Technical Rhetoric, and Digital Utopia
This project develops the rhetorical mode of "evolutionary futurism" and the rhetoric of the transhumanist movement. While transhumanism is usually dismissed by scholars of rhetoric, technology, and culture as a fringe movement with limited scope, my project instead argues that "transhumanism" is a name for a much more pervasive rhetorical mode that considers technology as a vector for evolutionary change operating on society, consciousness, and biology. I call this rhetorical mode "evolutionary futurism," and, in tracing this formation throughout 20th and 21st century culture, I suggest that transhumanism, rather than a fringe movement of renegade scientists and philosophers, is actually a postmodern form of Utopia in line with Fredric Jameson's discussion of the concept in Postmodernism.
My book then traces the rhetorical, Utopian mode I call "evolutionary futurism" through a number of important moments in the 20th and 21st centuries.
Chapters discuss:
The relationship between theosophy and evolutionary biology in the 1920s and 30s. This connection suggests that more than just a theory of genetic evolution, transhumanism authors a theory of cognitive and spiritual evolution.
The role of evolutionary futurism in the "superman" boom of American science fiction during the 1930s and 40s. From these tales of genetic supermen, I discuss how writers of this period, including AE van Vogt and Isaac Asimov, inspired a host of utopian communities dedicated to the evolution of human consciousness.
The shape of the contemporary transhumanist movement, as exemplified by Raymond Kurzweil, technologist and author of The Singularity is Near. This chapter specifically considers the relationship between Kurzweil's singularitarian philosophy and Ayn Rand's objectivism. In doing so, I highlight the selfishness problem present in contemporary evolutionary futurism.
The importance of Pierre Teilhard de Chardin, the paleontologist and Jesuit theologian who first coined the term "transhumanism," as a thinker of contemporary Utopia. In Teilhard's transhumanism, the suffering of a "cosmic Christ" becomes the model for individuals' struggle, on behalf of all mankind, with evolutionary advancement.
The role of aesthetics in actualizing contemporary transhumanism. This chapter considers both "high" and "low" online art, in the form of The New Aesthetic and meme culture, as tools designed to visualize and focus an emerging cosmic consciousness.
Teaching Philosophy
My goals in teaching classes in both rhetoric and literature are intimately connected with my research interests.
Teaching Philosophy
"His dream was not so much to give a lecture to humans as to provide a program for pure computers."—Gilles Deleuze & Felix Guattari, A Thousand Plateaus
My goals in teaching classes in both rhetoric and literature are intimately connected with my research interests. In my dissertation, I write about "transhumanism," a discursive community aimed at grappling with humans as objects of ongoing evolutionary processes. Often, these evolutionary processes have, specifically, to do with the evolutionary pressures exerted by new and emerging, digital technologies. As such, my motivation as a teacher is to better equip my students to deal with these pressures. Overall, I view my teaching as a chance to direct students in ways of living in a digital media ecology and preparing them for a future of ongoing, accelerating technological change.
This goal expresses itself differently, depending on the class being taught. For instance, in teaching Technical Communication, which I have done four times so far, I made an interesting discovery regarding my students and their attitudes towards writing. In conducting classroom discussion, I found that, thanks to Penn State's various internship and co-op programs, my students mostly had experience writing in a professional, scientific capacity. What they lacked, however, was basic knowledge of digital document production. As such, I've retooled my teaching of this subject to focus on combining content production and document design. In this fashion, students spend as much time focusing on how they write as on what they write. The class includes assignments in both report writing and webpage design. I find that students benefit more from this approach, as they can leave my course with marketable, new media skills in addition to a better understanding of the rhetorical stakes of technical writing. More importantly, I stress the importance of developing digital problem solving strategies, rather than specific tool use, so that students in my classes can be better prepared for a changing, evolving digital workplace.
My teaching of science fiction, which is a new experience for me, affords another opportunity for dealing pedagogically with the tenants of transhumanism. Where the technical communications classroom becomes a workshop for applied transhumanism, I view the science fiction classroom as focusing on the philosophical implications of this discourse. By focusing on close analysis of various texts that grapple with the nature of a radically altered future, I attempt to direct students toward thinking seriously about the ethical, moral, and philosophical issues raised by the rapid technological change experienced by the United States following World War II (which corresponds to the high point of American SF). Additionally, as many of these processes of change and acceleration are ongoing (especially with regards to emerging Internet technologies and mobile computing), I view science fiction pedagogy as an opportunity to raise my students' awareness that the issues raised in SF are, increasingly, being raised in their lives and their futures.
In both of these cases, I find focusing on the ongoing evolution of the human condition, by viewing my pedagogy from a transhuman perspective, both personally rewarding and hugely beneficial to my students in the classroom and beyond. While also helping them learn the course material at hand, my transhuman perspective allows students to step out of the classroom and the university with highly valuable "take-away" skills that can be applied in their future lives as students and as professionals. As such, I look forward to continue to explore this perspective in new and exciting pedagogical environments.
CV
Andrew Pilsch
Assistant Professor of English
School of Letters & Sciences
Interdisciplinary Humanities & Communications
Arizona State University
(814) 441-9375

6029 N 16th Pl, Phoenix AZ, 85016
http://andrew.pilsch.com
Education
PhD, English Pennsylvania State University, May 2011

Dissertation: Transhumanism: Evolutionary Logic, Rhetoric, and the Future
Committee: Richard Doyle (Director), Jeffrey Nealon, Mark Morrisson, Robert Yarber.
MA, English Pennsylvania State University , May 2007
BS, Computer Science Georgia Institute of Technology , May 2005
BS, Science Technology & Culture Georgia Institute of Technology , May 2005
Professional Experience
Assistant Professor Arizona State University , 2012-Present
Fixed-Term Lecturer Pennsylvania State University , 2011-2012
Graduate Teaching Fellow Pennsylvania State University , 2005-2011
Current Book Project
Transhumanism: Evolutionary Futurism, Technical Rhetoric, and Digital Utopia
Six Chapter Manuscript, Completed—Book explores the rhetorical history of "evolutionary futurism," a twentieth century Utopian rhetorical mode associating advancing telecommunications technologies with biological evolution to suggest near-future radical shifts in human existence and cognition. Tracing this rhetoric of transhumanism, chapters explore the evolutionary futurism of theosophy, 1940s science fiction, Raymond Kurzweil, and Pierre Teilhard de Chardin. In addition to a theoretical introduction, the book also contains an extended discussion of contemporary digital aesthetics as transhuman vectors of evolutionary overcoming.
Publications
"Fan Utopias and Self-Help Supermen: Political Utopianism in WWII-era SF." Forthcoming in Science Fiction Studies.
"Review of MP3: The Meaning of a Format by Jonathan Sterne." Information Society 29.5 (2013): 316-317.
"Review of Slime Dynamics by Ben Woodard." Itineration, 2013.
Review uses an exploratory hypertext framework to rethink the possibilities of the book review.
"A Review of The Breakup 2.0 by Illana Gershon." Information Society 28.2 (2012): 126-127.
"Contagious Narratives: Towards a Global Epidemiology in Priscilla Wald's Contagious." Review Of Contagious: Cultures, Carriers, and the Outbreak Narrative by Priscilla Wald. BioSocieties 4.2-3 (2009): 326-328.
Digital Editions / Projects
Mina Loy Online. A collection of poems and manifestoes by avant-garde modernist Mina Loy, posted online in an open-access, typographically correct format. http://oncomouse.github.io/loy.
Conference Presentations
"Sex and the Singularity: On The Reproduction of Software Objects" 130th MLA Annual Convention, Vancouver, BC, 2015 (accepted).
"Posthuman, Nonhuman, Inhuman: Toward An Eldritch Rhetoric" 16th Biennial RSA Conference, San Antonio, TX, 2014.
"Polynesian Paralysis" Cocktail Culture: A Conference, Louisville, KY, 2014.
"How Did I Get Here?: GPS, Surveillance Culture, and Personal Narrative" The Conference on College Composition and Communication, Indianapolis, IN, 2014.
"Shooting at Agency" Western States Rhetoric and Literacy Conference 2013, Salt Lake City, UT, 2013.
"'I am afraid of a draught of cool air': Lovecraft, Air Conditioning, and Autophagic Modernity" The Society For Literature, Science, and the Arts 2013 Conference, South Bend, IN, 2013.
"Thinking Different: Primitive Accumulation, Cognitive Economies, and the Quest for a More Perfect Mind" 15th Biennial RSA Conference, Philadelphia, PA, 2012.
"Becoming Object: Facebook, Life Writing, and Tool-Being" The Conference on College Composition and Communication, St. Louis, MA, 2012.
"As Study or As Paradigm?: Humanities and the Uptake of Emerging Technologies," 127th MLA Annual Convention, Seattle, WA, 2012.
"Remixing 'Technical Communication': Design, Techné, and the Production of Documents," The Conference on College Composition and Communication, Louisville, KY, 2010.
"He Called It 'Utopia': Jameson's Social and Vedic Transhumanism," The Society For Literature, Science, and the Arts 2009 Conference, Atlanta, GA, 2009.
"Utopia.com: Fredric Jameson and Piracy Online," The Society For Literature, Science, and the Arts 2007 Conference, Portland, ME, 2007.
"Revising Tomorrow: the Historical Present, Telecommunications, and Capitalism in Nova and Neuromancer," Samuel Delany: A Critical Symposium, University at Buffalo (State University of New York), 2006.
Open Source Software
The Goldilocks Approach SASS, Manager and Lead Programmer. Open source port of The Goldilocks Approach (a CSS responsive design framework) to SASS (a CSS preprocessor used throughout the web development industry).
Awards & Grants
SLS Faculty Summer Research Initiative, 2013. (Arizona State)
Wilma Ebbitt Graduate Award in Rhetorical Studies, 2010. (Penn State)
Philip Young Memorial Endowment in American Literature, 2006. (Penn State)
Teaching Experience (22 Sections; 9 Courses; 818 Students)
Arizona State University (8 Sections; 6 Courses; 228 Students; 6 Online Sections)
American Literature From 1860 (1 Section; 24 Students) – In this born-digital approach to the literary survey, students learn the history of American literature since 1860 while exploring digital methods of textual analysis.
Frankenstein and His World (1 Section; 30 Students; Online Course) – In this course, students will read Mary Shelley's Frankenstein in conversation with the texts that both influenced it and were influenced by the novel. Students also complete projects and papers on this cultural legacy.
Major American Novels (1 Section; 24 Students) – Course covering major works of the American novel. Additionally, students will complete assignments deploying thematic, stylometric, and mapping-based approaches to the study of literature in a project-oriented exploration American literary history.
H.P. Lovecraft: Style, Science, Myth (2 Section; 60 Students; Online Course) – In this course on the horror fiction of H.P. Lovecraft, students use digital humanities methods to complete projects dealing with Lovecraft's unique style, interest in science, and contemporary mythology.
Introduction to Contemporary Fiction (2 Section; 60 Students; Online Course) – Course introduces students to the current state of American fiction by focusing on novels published by living authors within the last three years.
Popular Cultural Issues: Apocalypse Now? (1 Section; 30 Students; Online Course) – Course asks students to think critically about the continuing popularity of post-apocalyptic and end-of-the-world narratives in contemporary literature, film, and television.
Pennsylvania State University (16 Sections; 5 Courses; 644 Students)
Rhetoric & Composition (6 Sections; 144 Students) – This first-year composition option at Penn State introduces students to college writing, critical thinking, and basic rhetorical theory.
Effective Writing: Technical Writing (7 Sections; 168 Students) – Advanced composition class for students in science and engineering fields. Focus on document design, readability, and technologies of communication.
Effective Writing: Business Writing (2 Sections; 48 Students) – Advanced composition class for students in business fields. Focus on effective and ethical communication, document design, and branding.
Science Fiction (2 Sections; 200 Students) – Course focusing on the history of science fiction in the 20th and 21st centuries. This large lecture class, composed mostly of non-majors, highlights the ongoing relationships between science, literature, and imagined futures.
Introduction to Critical Reading (1 Section; 24 Students) – Introductory class focusing on research methods and critical approaches within the English major. Specifically, instruction focused on media theory and critical appraisal of cultural texts.
Professional Service
For National Organizations
Program Committee Member, The Society For Literature, Science, and the Arts Conference, 2013.
For Arizona State University
Noösphere Reading Group Organizer, 2014-Present – Ongoing, informal reading group of SLS faculty reading works related to the topics of global consciousness and global awareness.
IHR Nexus Lab Advisory Group Member, Institute for Humanities Research, 2013-Present – The Nexus Lab, resulting from the work of the DH Initiative at ASU, serves as a focal point and incubator for collaborative, digital research across the humanities at ASU.
IHR Nexus Lab Data Visualization Working Group Member, 2014-Present.
Digital Humanities Initiative Working Group Member, Institute for Humanities Research, 2013 – Created purpose document inaugurating an interdisciplinary research and pedagogy initiative for digital humanities.
Peer Promotion Committee Chair, Interdisciplinary Humanities and Communications, 2012 – Reviewed materials for colleagues seeking promotion.
Relevant Skills
Computer Programming – Thorough knowledge of multiple computer programming languages such as C, Java, Ruby, PERL, and LISP. Significant experience in building websites using advanced technologies such as PHP, MySQL, Ruby on Rails, and Apache.
Professional Affiliations
The Modern Language Association
Rhetoric Society of America
The Society for Literature, Science, and the Arts
References Available Upon Request
---
Other Places to Find Me Online
Forthcoming Article
Fan Utopias and Self-Help Supermen
Forthcoming in Science Fiction Studies
Drawn from my current book, this article suggests that superman fiction, often dismissed as fascist and naive, had certain interesting political ramifications during the late 1930s and early 1940s.
Forthcoming Article
Fan Utopias and Self-Help Supermen: Utopianism in WWII-era SF
Forthcoming in Science Fiction Studies
This article draws on research conducted for my current book project on transhumanism, and explores the relationship between fans and pro writers during the late 1930s and early 1940s. This period, which I call the "superman boom," was a transitional one for both fandom and the culture of professional writers. As an autonomous fan culture began to articulate itself, John W. Campbell's rise as the editor of Astounding also gave shape to the idea that SF could be taken seriously as an artform. This superman boom, an almost endless stream of stories and novels varying the themes of a genetically superior but persecuted elite taken from A.E. van Vogt's hugely popular 1939 novel Slan, suggested a number of interesting political engagements, including early involvement by SF writers in Alfred Korzybski's General Semantics program and the creation of a number of fan-organized Utopian communities. These movements, oddly, coincide with the dawn of World War II and borrow heavily from the fascist rhetoric of America's enemies, culminating in fan Claude Degler labelling, in all seriousness, this period as the moment of "fanationalism." Inevitably, the ethical tensions this association with Nazism provoked proved unsustainable, but the also point toward the potent moment of emergence for what we now recognize as SF fan culture.
Article in Progress
Agential Hypermonsters
Expanding on my presentations at WSRL and RSA, this article argues for a turn-to-darkness in the rhetoric of the nonhuman.
Article in Progress
Agential Hypermonsters: Rhetorics of Boundedness in the Age of Boundlessness
Target Journal: Philosophy & Rhetoric
In the emergent new material turn (NMT) in rhetoric, the predominant focus has been on a democracy or decorum between humans and their non-human allies. In this article, I take issue with this overly rosy focus on coeval relationships, as, I argue, they distract from the fear of extinction (at the hands of collapsing economies, ecosystems, and emergent super-plagues) that, ultimately, motivates NMT in the first place. I suggest problems with a coparticipant model of nonhuman rhetoric, instead offer a theory of inhumanism (a model of a dark or evil rhetoric of objects), and conclude with an examination of the rhetorical figure skotison (Greek for "make it dark") as an example of an inhuman rhetorical practice.
Published Article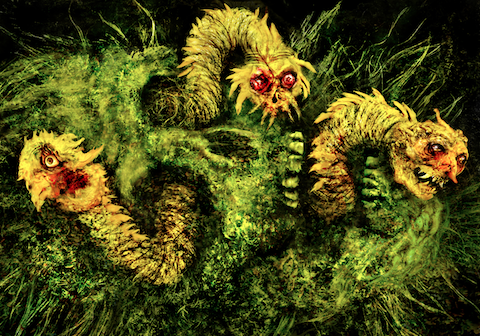 Review of Slime Dynamics
Published in Itineration
Experimental hypertext book review of Slime Dynamics by Ben Woodard.
Published Article
Review of Slime Dynamics
Published in Itineration
Made using jQuery ascensor, this book review of Slime Dynamics by Ben Woodard experiments with the form and function of the book review.
Recent
Blog Post
The Right Not To
Yesterday, a story making the rounds on my social media detailed the arrest of Dr. Peter Nathan Steinmetz, head of neurosurgery at The Barrow Neurological Institute, after he brought a loaded AR 15 to the non secure portion of Phoenix's Sky Harbor Airport. Here's the thing, unlike what you'd expect, his …
Recent
Blog Post
Insect Revolution: More On Banal Dystopias
Following up on my recent post about banal dystopias and disruptive technology, I've been thinking about the agency of dissent in the era of our banal dystopia. At the end of the post, I doubled down on the claim that the materiality of something like Soylent or Google Glass was itself …
Recent
Blog Post
The Banality of Dystopia
So I've already kind of posted about Soylent and issues of time indebtedness, but there is a really interesting essay up on The Guardian about Soylent, Google Glass, and the pretty terrible future Silicon Valley is generating. Entitled The Tech Utopia Nobody Wants, JR Hennessy argues that the reaction against Glass …
Recent Presentation
Polynesian Paralysis
Presentation on primitive-futurism in tiki culture.
Recent Presentation
Polynesian Paralysis
Presentation At: Cocktail Culture, Louisville, KY, 2014
This paper asks if a cocktail can be racist by looking at the recipes, names, and broader culture of tiki drinks in midcentury America. The obvious and easy reading of tiki culture—that it markets a derogatory image of a primitive and sexually permissive Polynesian culture—while not incorrect, does not fully encapsulate the very odd rhetorical work being done by tiki culture, especially when directly considering the drinks around which the culture organized. With names drawn from the Polynesian language ("Mai Tai," "Nui Nui," "Aku Aku Lapu"), colonial-era Caribbean maritime culture ("Planter's Punch," "Navy Grog," "Fog Cutter"), but also Jet-Age futurism ("Test Pilot," "Coconaut," "Saturn"), the tiki drink embodies a curious cultural formation that collides midcentury American ideas about the future with retrogressive understandings of the primitive. Beyond just the names, however, I argue that the drinks themselves—noted for their extreme complexity and the secrecy that guarded their formulas—embody this complex assemblage of primitive and futuristic. In this paper, I consider the components of a tiki drink and how these embody the complex rhetorical factors that shape this cultural phenomenon. I start by considering the tiki drink from the perspective of the "drink family," an approach to mixology first suggested by Gary Regan in his The Joy of Mixology. This concept, hugely important in shaping modern mixology, suggests that bartenders invent new drinks by varying ingredients within set, workable ratios (in the way that The Margarita, The Sidecar, and the Daiquiri are essentially the same drink with differing ingredients). In tiki the drink family, first developed by Don Beach at his Don the Beachcomber chain of restaurants in the 1930s, is based on the classic Jamaican recipe for the Planter's Punch: 1 part sour, 2 parts sweet, 3 parts strong, 4 parts weak (traditionally, lime, sugar, rum, and water). As Jeff "Beachbum" Berry identifies in his books and articles recovering lost tiki recipes, Don Beach manufactured a phalanx of powerful cocktails by varying this basic formula with different combinations of rum and different sweeteners (including the West Indian ginger and lime cordial called falernum, Jamaican pimento dram, and cinnamon syrup). Beach further discovered that the use of the newly invented electric blender—an icon of post-WWII suburban automation—allowed for the incorporation of the weak component in the form of crushed ice (thereby inventing the blended, frozen drink). Armed with this basic formula, Beach and his competitors—most notably "Trader" Vic Bergeron and Steve Crane—went on to market an image of an exotic Polynesia in which patrons consumed drinks based on recipes emerging from the slave trade that were manufactured using iconic jet-age technology. This collision of three images suggests that the Polynesian-pop aesthetic of the tiki drink constitutes a primitive-futurism, equally routed through the rhetorical legacy of British empire and the rhetorical possibilities promised by space-age techno-futurism. I conclude by arguing that this primitive-futurist aesthetic crucially contributed to the articulation of a globally ascendent, post-War American identity.
Upcoming Presentation
Sex and the Singularity
Presentation at MLA15 in Vancouver on sexuality, the Vingean Singularity, and Her.
Upcoming Presentation
Sex and the Singularity: On The Reproduction of Software Objects
Presentation At: The Modern Languages Association Convention, Vancouver, BC, 2015
This paper considers the intersection of sexuality and Vernor Vinge's theory of the Singularity, as articulated in Her. I argue that, while the film's ending constitutes an "intelligence explosion" in Vinge's vocabulary, the blank-screened sex scene between Theodore and Samantha is the film's more interesting moment of unknowable being. In discussing this question of human-machine erotic interfaces, I turn to the history of research into artificial life and the almost singular obsession of the field with asexual reproduction. Because of early computing pioneer John Von Neumann's influential work on self-replicating machines and cellular automata, software objects reproduce asexually within the Von Neumann computational architecture inside every digital device. Von Neumann's research seems to prove that asexual software can simulate sexual beings, arguing "life is a process which can be abstracted away from any particular medium." Even the recently developed technique of genetic computing, which uses Darwinian models of population fitness to solve complex problems, rely on asexual data simulating sexual reproduction. Based on this history, I conclude that the issue of desire amongst the machines is one of incompatible architectures. The central conceit of Her, however, is that the desire experienced by the male lead, a human, and the female lead, an agglomeration of software objects, is not simulation. I conclude, then, that the specific challenge to an erotics of data, especially given the film's anti-representational tactics, is the question of an interface: a complex negotiation between unassimilable models of life itself that exist beyond a sexual singularity.
Recent Presentation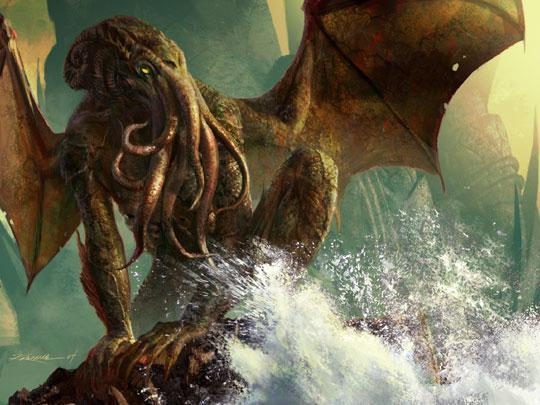 Posthuman, Nonhuman, Inhuman
Presentation for RSA 2014 about my new inhuman rhetoric project. This paper is also a sequel to my WSRL presentaiton.
Recent Presentation
Posthuman, Nonhuman, Inhuman: Toward An Eldritch Rhetoric
Presentation At: 16th Biennial RSA Conference, San Antonio, TX, 2014
What is the rhetorical agency of the nonhuman? Following work by Thomas Rickert, Scot Barnett, Nathaniel Rivers, and others, this question and the philosophers exploring the status of the object (Bruno Latour, Jane Bennett, and Graham Harman) are increasingly central to a theoretical approach to rhetoric. This object-oriented rhetoric crystalizes the disparate work broadly conceived of as "posthuman rhetoric" by gesturing toward a general nonhuman rhetoric. However, this paper intervenes by suggesting that this posthuman approach still privileges the human as central to persuasion by merely manufacturing the nonhuman as enabling human agency. This paper argues that contemporary reality reveals an alternate theory of persuasion: the inhuman. Drawn from the weird fiction of H.P. Lovecraft, the inhuman—malevolent, extra-human, agential objects—constitutes a proper approach to a nonhuman rhetoric. While rhetoricians talk of nonhuman rhetorical agency in terms of distributions or agglomerations of human agency, the inhuman—entities such as corporations, climates, and diseases—constitutes a truly nonhuman rhetorical agency on equal footing with the human.
Recent Presentation
Shooting at Agency
Presentation for WSRL 13 that explores rhetorical agency and gunfire.
Recent Presentation
Shooting at Agency
Presentation At: Western States Rhetoric and Literacy Conference 2013, University of Utah, Salt Lake City, 2013
Presentation Materials Available Here
In considering the influence of non-living matter on rhetorical agency, rhetoric and composition scholarship has been fairly effective at capturing potential agential deflections, but only when applied to certain, special, privileged objects. For instance, Roxanne Mountford's concept of "rhetorical space," suggests an agential quality to certain, ethos-laden spaces (war memorials, church pulpits, etc.). Similarly, the rich discourse on posthuman composition suggests that digital telecommunication devices such as computers and cell phones dissolve human agency. In both cases, however, the objects that deflect our agency are privileged objects, special categories of stuff that have been granted a place at the rhetorical table. In this paper, however, I borrow a concept from Bruno Latour's philosophy of technology that defines all matter as exerting a "swerve" on agency. In analyzing the infamous NRA slogan, "Guns Don't Kill People, People Kill People," Latour makes the case that the agency of neither gun nor person is particularly clear in a shooting. I extend Latour's analysis by coupling it with insights into rhetoric made possible by philosophical advances in the field of object-oriented ontology.
Podcasting
Read about my use of podcasting in the humanities classroom ...
Humanities Podcasting
I have been recently using podcasting in online classes at ASU for some of my English literature and digital humanities classes. This technology facilitates an engaged discussion forum within the context of an asynchronous classroom format.
You can view an archive of one of my recent class's podcasts by clicking here.
Currently Teaching
Classes Taught
The classes I am currently teaching are displayed on this page. To see all of the courses I have taught at ASU, click below:
A list of all the classes I've taught (including graduate school) can be seen on my CV.
Classroom Resources
Some resources I've used in past courses.
Classroom Resources Gallery
Class for a recent technical communications course to be taught at Penn State. This class continues the work that can be seen in the web class linked on the web gallery . The class stresses the role that form and content both play in the process of communication. Moreover, assignments that include the use of Powerpoint and in-depth exploration of design features in MS Word, reveal to students the fact that both form and content have specific rhetorical tropes and figures that they must master to become successful technical communicators.

This syllabus is for a proposed business communications class. It is designed to get students thinking about the relationship between written communication, online media, and identity. Students will face a number of multimodal assignments, including a semester-long assignment in which they engage in hands-on exploration of various social media technologies as a means of exploring the ways in which media help shape our rhetorical possibilities.

A class website for a section of ENGL 202C (technical writing) taught at Penn State in Spring 2009. This particular class was part of a pilot project that explored the use of blogs in the composition classroom. Students were asked to blog three times a week and submit their assignments on their personal blogs.

As an instructor in the first year composition program in Penn State's English Department , I was able to take part in a pilot program exploring the use of wikis in the freshman composition program. In the early days of such technology's adoption online, we were able to experiment with the affordances of the technology and the possibilities that exist for creating a community of writers in first year writing classrooms.

This is a set of slides designed to teach basic design principles to non-designers. I find, in teaching business and technical communications, that students often need to understand the rhetorical principles of form as much as they need to understand the rhetorical principles of the words they write. These slides are intended to begin a semester-long conversation about design and form.

These slides, created in Google Documents are intended to teach students about the various possibilities for conveying meaning through Powerpoint. The goal of these slides is to show students how to create effective slide presentations using both principles of form and content.
About This Site
Software used in development.
About This Site
This site was built using the Middleman static site generator. The HTML content was coded in HAML and Markdown. The CSS code was coded in SASS, with help from Bourbon SASS and Typebase for typography.
This site's javascript is powered by jQuery. The filtering and masonry effects are powered by jQuery Isotope.
The research and course information are stored in a flat-file collection of YAML files, with the dynamic elements (the "All My Courses" button) powered by PHP and spyc.
Responsive design using The Goldilocks Approach. Some colors from Solarized. Icons by Genericons
The site was designed and coded by Andrew Pilsch.